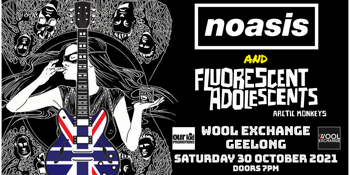 Our Kid Promotions Presents
NOASIS - Australia's Number #1 Oasis tribute
FLUORESCENT ADOLESCENTS
The Wool Exchange (Geelong, VIC)
Saturday, 30 October 2021 7:30 pm
Oasis dominated the rock scene through the 90's and early 00's and the Arctic Monkeys were hailed as the first band to use social media to gain traction with 2 consecutive #1 singles in 2005-06 that threw them into the fast lane across the world for the next seven years.
Saturday October 30th the Wool Exchange brings you a tribute to two of England's biggest bands in one monumental show. Noasis will be here now for their first Geelong show as part of their 2021 Australian Tour with Artic Monkeys Tribute Fluorescent Adolescents as their special guests for a night of rock mayhem and more swag than anyone can handle.
Originally formed in England in 95, NOASIS truly bring the spirit of Oasis to the stage with thumping backbeats and wall of sound that are complimented perfectly by attitude, style and in your face rock 'n' roll like it was originally intended.
See the boys perform all the anthems that defined an entire generation including Roll with It, Supersonic, Cigarettes & Alcohol, Morning Glory, Go Let It Out, Some Might Say, Gas Panic, Shock of the Lightning, Don't Look Back in Anger, Wonderwall and more!
With Fluorescent Adolescents kicking the night off, this promises to be a night of era defining British music. So, grab your mates, bucket hats, shades and get set to go OFF for a show that promises to be the closest thing to the real thing… and an incredible night out. C'mon, you know.