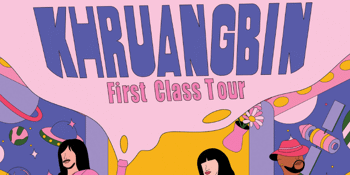 Frontier Touring, Chugg Entertainment & Penny Drop Present
Khruangbin - First Class Tour
With Special Guests Mildlife
Fremantle Arts Centre (Fremantle, WA)
Wednesday, 23 November 2022 6:00 pm
Performing their biggest headline shows in Australia and New Zealand to date, Houston, Texas psych-funk auteurs Khruangbin will bring their First Class Tour to Fremantle, Sydney, Melbourne, Brisbane and Auckland in November/December 2022.
Last here in 2019, the acclaimed three-piece exist in their own orbit, their legendary live show – a mixtape of surf-rock cool, dubby disco and worldly funk – held down by the steady hand of drummer Donald Ray 'DJ' Johnson Jr, virtuosic guitarist Mark Speer, and enigmatic bassist Laura 'Leezy' Lee.
Live on stage Khruangbin's electric range is performed with impeccable style, their sound rooted in globetrotting. With three studio albums to date – debut The Universe Smiles Upon You, 2018's Con Todo El Mundo, and 2020's Mordechai – tracks such as 'Dern Kala' , 'Maria También' and 'People Everywhere (Still Alive)' have become live anthems for their many fans, no mean feat for a largely instrumental group. 2021's Mordechai Remixes featured re-imaginings by Kadhja Bonet, Soul Clap, Quantic, Harvey Sutherland, and more.
Sonic instrumental world-builders, Khruangbin's sound is meticulously constructed and universally adored. Praised by The New York Times, Billboard, Los Angeles Times, FADER and more, they regularly sell-out multiple nights at iconic venues worldwide – from The Greek in Los Angeles to London's O2 Academy Brixton – possessing a live show not to be missed, as attested by two recent reviews:
'Khruangbin treated the audience to a dazzling 20-minute encore, song after enthralling song. Nearly all audience members were either swaying or dancing the entire set. If you ever have a chance to see Khruangbin live, don't miss it!' – utahmagazine.com
'Drawing inspiration from Thai funk, Jamaican reggae, Asian pop, and American Funk and R&B, Khruangbin accomplishes a global sound that any music lover can appreciate' – melodicmag.com
CLICK HERE to signup and become a Frontier Touring Member
FRONTIER MEMBERS PRE-SALE
Wed 30 Mar, 11am - Thu 31 Mar, 11am*
PRE-SALE CODE:
Unique code to each Member (enter using the access/promo code link above)
PRE-SALE TICKET LIMIT:
4 per customer**
Register as a Frontier Member on
frontiertouring.com
to access the pre-sale code. Only available to Frontier Members. A pre-sale is an opportunity to secure tickets prior to the public, not a preferential seating service. *Or until pre-sale allocation is sold out. **Persons who exceed the published ticket limits may have any or all of their orders and tickets cancelled without notice. This includes orders associated with the same name, e-mail address, billing address, credit card number or other information.
Important Event Information
Please click here to view Frontier Touring's Terms and Conditions of Sale
---
COVID
COVID restrictions may apply at the time of this event. By purchasing a ticket, you agree to abide by the restrictions at all times while onsite. Failure to do so may result in being asked to leave.
Please visit the COVID Safe page on FAC's website
to read the most up to date information, or visit
wa.gov.au
.