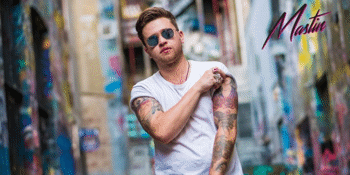 CODE ONE
Reece Mastin
with special guests
Royal Hotel Queanbeyan (RHQ) (Queanbeyan, NSW)
Saturday, 27 April 2019 6:30 pm
---
DINNER & SHOW PACKAGES
---
Dinner service commences at 630pm. General Admission Entry at 730pm

Dinner & Show packages include entry and a two course meal (Entrée & Main), alternate serve.
*Shared table allocation: 2 people ticket holders are seated together*
Please note: this show will have limited seating and be standing only, dinner&show tables cannot be joined together on the evening and dinner will be allocated in multiple rooms separate to the show. Each below purchase option will allow you to buy one whole table. Tables may be place together to suit numbers. If you require more than one table per purchase please call our customer service team on 1300 762 545.
Special Needs Booking Information
For special needs bookings (including specific dietary requirements) please contact the venue directly on (02) 6297 1444.
Online Ticket Availability
Dinner & Show sales close at 12pm on the day prior to the event.
Show Only sales are available up until 4pm the day of the event. Door Sales are subject to availability
Reece Mastin is loved all over the countryside and with a career kicking off in the 2000's after winning X Factor Australia in 2011 as a 16 year old and achieving so much at such a young age including 2x Platinum #1 albums, Three Consecutive chart topping Singles, Aria Chart #1,2 and #1 Singles respectively.
Reece now 24 years of age released his first fully independent EP "Suitcase of Stories" in April 2018 debuting at #1 on Itunes Rock Charts and followed that with a National Tour and a Sold Out show in his childhood hometown in the UK.
Rock n Roll born and bred, guitars are loud and proud, Reece's show is full of energy and fun, you can see it written on his face alongside his amazingly tight band. Leaving behind the pop sound he once had, to play what runs through his veins and pours out of him in his new music, this is now the sound he was made to bring to the world. Reece has a whole heap of new material and he's bloody keen to perform alongside the classics of 2011/12. Forget all you think you know about this young singer and go introduce yourself to Reece's new sound at a show not to be missed.