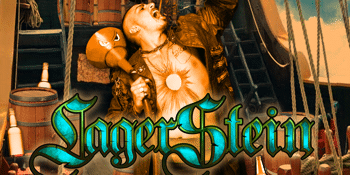 Kegstand Productions & Overdrive Touring present
Lagerstein's 'Beer Right Back' Tour
with Lagerstein + Supports
The Evelyn Hotel (Fitzroy, VIC)
Saturday, 13 April 2019 8:00 pm
It's that time of year again, where Brisbane's pirate partying machine LAGERSTEIN return to Europe for another bender across the continent and to record their highly-anticipated 3rd album. But before they don lederhosen and replace their tinnies for steins, they're having one quick party across the Australian East Coast for their "Beer Right Back" tour! Catch their rum soaked antics as they debut brand new songs for their Australian crew in this world first on stages across the nation.
Lagerstein are the physical manifestation of partying, drinking and piracy - a folk-metal juggernaut unlike no other. With almost a decade of rum-filled antics and crushing riffs behind them, Lagerstein are set to record their 3rd studio album with Fredrick Nordstrom in Sweden, so this will be the final chance to see Lagerstein before they leave to record the next booze-soaked folk metal classic.
The S.S. Plunderberg will strike the capitals Melbourne, Sydney, Canberra and Brisbane with two very special FREE shows in Wollongong and Gold Coast. Raise your horns, charge your drinks, and do not miss the party of the year!
DATES
30th March - Gold Coast, Wallaby Hotel*
6th April - Brisbane, Woolly Mammoth
11th April - Sydney, Crowbar
12th April - Wollongong, Dicey Riley's*
13th April - Melbourne, Evelyn Hotel
14th April - Canberra, The Phoenix Pub
* Free Show
Facebook Event:
https://www.facebook.com/events/2033646893417257/
Check out more news at
www.lagerstein.com
!!