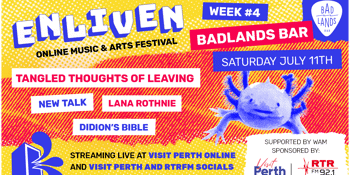 Alyian & City Of Perth present
Enliven Online Music & Arts Festival - Week 4
ft. Tanagled Thoughts Of Leaving, NEW TALK, Didion's Bible & Lana Rothnie
Saturday, 11 July 2020 7:00 pm
Enliven Online Music & Arts Festival
Week 4 at Badlands Bar
Featuring live performances from:
Tangled Thoughts of Leaving
NEW TALK
Didion's Bible
Lana Rothnie
+ Live Comedy from Matt Storer
Enliven Fest comes live from 'Badlands Bar' for our fourth week of live streamed performances.
Watch the stream LIVE at City of Perth's 'Visit Perth Online' and via RTRFM and Badlands Bar socials.
Very limited audience tickets will be available - details coming soon!
Tune in to the live stream to see our regular segments:
+ 'All Organs and Organsims' with Amber Fresh
+ 'If it Aint Baroque - Fix It!' with Ash Baroque
+ Mystery Taste Test with Ai-Ling Troung
Hosted by Odette Mercy and Steven Alyian
Enliven Fest: A re-invigoration of Perth's music and performing arts scene.
Five events over five weeks that celebrate the creative community of Perth, live streamed online from some of the best venues in our city.
Tune in live each week to see some of Perth's best artists perform at the venues that champion Perth's original music scene. Enliven Fest will showcase iconic Perth artists alongside emerging raw talent, expressing the collective gratitude for this rich and diverse entertainment industry that has been heavily affected by the COVID-19 crisis.
Commencing Saturday June 20th and running until July 18th as part of the City of Perth's 'Visit Perth Online' and streamed via RTRFM, Enliven features a diverse array of some of the best talent Perth has to offer, including comedy, performance art and more.
Sponsored by The City of Perth, RTRFM and supported by WAM.
*Please note is if the date of the show is still in "phase 3" of Covid-19 restrictions, this will be a seated, limited capacity show.