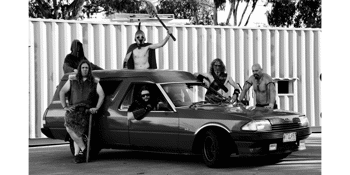 Barbarion Mother's Day Front Bar Extravaganza'
The Tote - Front Bar (Collingwood, VIC)
Sunday, 9 May 2021 5:00 pm
Since first emerging from the primordial ooze in 2007, Barbarion have been steadily
winning over audiences in Australia and abroad. Barbarion always deliver a theatrical
maelstrom of the highest order. The shows incorporate fire, smoke, skulls, weapons
and other battle/heavy metal themed props. Each member brings to the stage their
own barbaric identity, inspired by barbarians from various times and places - leather,
flesh, fur, war paint, helmets, drinking horns – all in the pursuit of glorious spectacle.
The band consists of a larger than life front man, three hairy guitarists, bass and
drums. The music appeals to metal and non-metal fans alike, drawing from
traditional champions of metal and hard rock such as Iron Maiden, Manowar,
Megadeth, Accept and AC/DC. AAAAAAARGHHHHHHHHH!!!