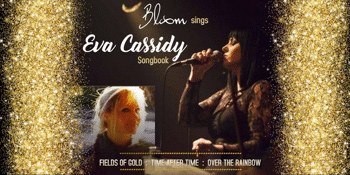 Bloom sings The Eva Cassidy Songbook
with special guest Vivv
Lyric's Underground (Maylands, WA)
Sunday, 10 October 2021 5:00 pm
Eva Cassidy was known for her powerful, sensitive, soulful voice and for her much loved interpretations of some of the worlds most iconic songs. Tragically Eva's life was cut short at the age of 33. Two years later Cassidy's music charted success world wide.

Bloom is highly applauded as one of Australia's greatest power vocalists in her own right and has already garnered international acclaim for her effortless soulful vocal resonance of power vocalists Adele & Amy Winehouse with her Adele & Amy Songbook tour and more recently a national tour performing the hits of her idols Stevie Nicks, Linda Ronstadt & Carole King.

Some of the hits Bloom has handpicked in this incredible new show honoring Eva Cassidy are "Somewhere Over The Rainbow" "Fields Of Gold" "Time After Time" "Songbird" and many more...

Come and be charmed by the Australian vocal powerhouse that is Bloom and celebrate & remember Eva Cassidy.