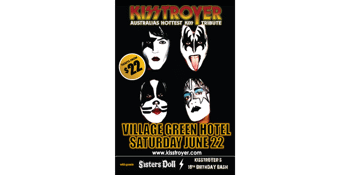 Kisstroyer
Village Green Hotel (Mulgrave, VIC)
Saturday, 22 June 2019 8:00 PM
At 18 years old there is no slowing down for KISStroyer !
KISStroyer has toured Nationally and Internationally !
It has featured on 60Minutes, MOLLY mini series, Spicks n Specks, 1v100, The Age, TripleM and the list goes on and on !
KISStroyer has also headlined world famous festivals like China'sTsing Dao Beer Festival and Golden Plains !
The stage show, atmosphere and replication of KISS is authentic.
Now it's your chance to catch them locally;
ROCK n ROLL ALL NIGHT and PARTY EVERYDAY !