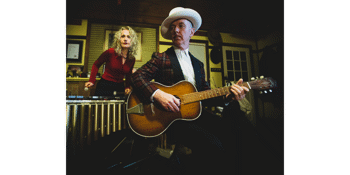 Press Play
Dave Graney and Clare Moore
Solbar (Maroochydore, QLD)
Sunday, 29 March 2020 5:00 PM
Late last year, Dave Graney and Clare Moore from famed acts The Moodists, Coral Snakes and MistLY) released their second album for 2019.
ONE MILLION YEARS DC was recorded and mixed at their studio in the hills of Melbourne, the PONDEROSA. This album follows ZIPPA DEEDOO WHAT IS/WAS THAT/THIS? an album recorded with their band the mistLY which came out in May 2019 and featured the modern classics ULTRAKEEF, SONG OF LIFE and BABY,I WISH I'D BEEN A BETTER POP STAR.
The two are companion pieces, in a way. Many songs recorded over the same period.
They are playing national dates for ONE MILLION YEARS DC. Its an album of songs rather than a representation of a band. Its all to do with their sensibility. They are rock'n'roll people and are steeped in rock'n'roll culture.
They will be playing songs from across their career and also nods to artists who have inspired them.
Whatever they do, it will be straight from the fridge (i.e. cool). As ever they're on a Birdseye kick, man!
Catch them when you can. It's always a live show, jumping off the plate, baby.
http://www.davegraney.com
ULTRA KEEF:
https://youtu.be/LJGxdKmnbzo
Dave Graney
and Clare Moore -- duo with guitars/vibes/keys/melodica
Dave Graney and the mistLY
– two guitars, bass, drums – all singing.
Dave Graney
voice and guitar
Started out as the Moodists. Then there was Dave Graney 'n' the Coral Snakes.
Three books - It Is Written, Baby (1997) – 1001 Australian Nights (2011) and WORKSHY (2018).
Dave Graney and Clare Moore inducted into South Australian Music Hall Of Fame December 2019.
Current album ONE MILLION YEARS DC
.
Nominated at the 2018 OZFLIX awards for best original soundtrack (with Clare Moore) for the Donna McRae film, "LOST GULLY ROAD".
Feted as Melbourne Music Legend by City of Yarra/Leaps and Bounds Festival in 2015. A concert given with a cavalcade of Melbourne musicians young and vintage playing Dave Graney and Clare Moore songs.
Voted Best Live Act by readers of Fairfax for the Age EG Music Awards 2011.
Best Music Act
at 2007 Melbourne Fringe for the show POINT BLANK.
ARIA award nomination best Original Motion Picture Soundtrack album 2003
ARIA award winner
best video 1997.
ARIA award nomination, Best Male Artist 1997
ARIA award nomination, Best Cover Art 1997
ARIA award winner
for Best Male Artist 1996.
ARIA certified Gold Record award for the Soft 'n' Sexy Sound 1996
ARIA award nomination , Best Producer 1996
ARIA award nomination for Best Video 1995
ARIA award nomination for Best Alternative Album1994.
http://www.davegraney.com
https://www.facebook.com/davegraneymusic/
https://twitter.com/davegraney
https://www.instagram.com/dave_graney/
https://soundcloud.com/dave-graney-lym
https://davegraney1.bandcamp.com/
http://davegraney.blogspot.com.au/