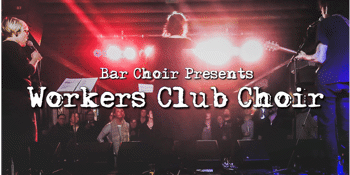 Bar Choir does INXS
The Workers Club, Geelong (Geelong, VIC)
Thursday, 29 August 2019 7:00 pm
Never tear us apart!

Presented by the legends from Bar Choir, we are teaming up to bring you a carefree night group singalong!

When dutch courage meets a band room full of music lovers... joy and euphoria, emerge through communal song.

These kinds of frequently occurring nights are bringing fun and happiness to, not only music scenes and seasoned musos, but whole communities all over the globe... and now we are bringing this global sensation to GEELONG!

Arrival... 6pm (Earlier if you want some of our awesome American Barbecue prior)
6pm-7pm... Dutch Courage (aka DRINKS!)
7pm-8pm... Warm up, practice, DRINKS!
8pm... The big SONG and dance!... And DRINKS!

Tickets are on sale via Oztix and at the venue. $10
Door tickets are subject to capacity. $15
This is an 18+ Event.