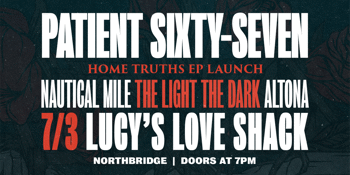 PATIENT SIXTY-SEVEN
HOME TRUTHS EP LAUNCH
Lucy's Love Shack (Perth, WA)
Saturday, 7 March 2020 7:00 pm
Perth metalcore outfit Patient Sixty-Seven will be launching their brand new EP 'Home Truths' on March 7 at Lucy's Love Shack.
With special guests
Nautical Mile
The Light The Dark
Altona
The band recently unveiled the hard-hitting video for their new single 'Where To From Here', taken from the bands upcoming and highly anticipated Home Truths EP - set to be released on February 14.
Patient Sixty-Seven enjoyed a busy 2019, with singles 'What's Left On Us' and 'Help Inflicted' marking the bands two most successful releases to date - having seen them continue to refine and hone in on their passionate brand of alternative music.
A year spent writing and recording new material will culminate in the release of Home Truths, with the single and accompanying music video showcasing firsthand the bands newfound intensity.
Joining Patient are three of Perths best up and coming bands in Nautical Mile, The Light The Dark and Altona, marking this as a night not to be missed.
Tickets are available now via (platform of sale).
Home Truths will be available everywhere February 14. Pre orders are now available via the bands online store - or via digital outlets.
Pre-order 'Home Truths' + stream the new single 'Where To From Here':
https://fanlink.to/HomeTruths