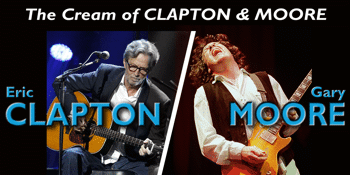 Code One
The Cream of Eric Clapton & Gary Moore - LATE SHOW
The Heritage Hotel, Bulli (Bulli, NSW)
Saturday, 12 June 2021 9:00 PM
The Cream Of Clapton & Moore salutes two legendary guitar players. Eric Clapton and Gary Moore.
Both players have accumulated a string of guitar dominated songs that are now staples in rock history and will continue to inspire generations to come.
The Cream Of Clapton & Moore cover all the hits and deep cuts that will satisfy diehard fans and casual music listeners from all eras.
Songs include - Layla, Still Got The Blues, Sunshine Of Your Love, Walking By Myself, Wonderful Tonight, Empty Rooms, White Room, Parisienne Walkways, Bad Love, Oh Pretty Woman, Crossroads, Over The Hills & Far Away, After Midnight, Military Man and many more.