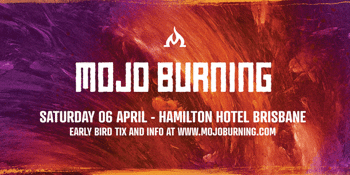 Beats Cartel
MOJO BURNING VI
Hamilton Hotel (Hamilton, QLD)
Saturday, 6 April 2019 2:00 PM
Brisbane's biggest celebration of Blues, Rock and Psych
MOJO BURNING
is back for it's 6th and largest edition, Saturday 6 April 2019 at the
Hamilton Hotel
.
With 27 BANDS OVER 3 STAGES and 12 hours, Mojo Burning delivers an intense palate of AV stimulus, offering punters some of the best names in the business, rising stars and an all out cosmic blowout amongst friends.
Past events have hosted the likes of Wolfmother, Nick Oliveri (QOTSA/Kyuss), Jeff Martin, SixFtHick, Bob Log III, Jackson Firebird and many more. Limited capacity so get in early! Mojo never disappoints.
A short run of Early Bird and VIP tickets are now available with first artist announcement coming soon. Full festival info at www.mojoburning.com.
ALL KILLER NO FILLER