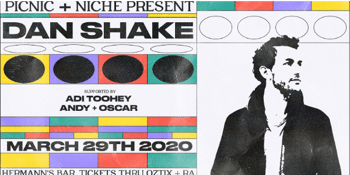 Picnic & Niche presents
CANCELLED - Dan Shake (UK)
Hermanns Bar- Sydney Uni (Sydney, NSW)
Sunday, 29 March 2020 4:00 PM
~ POSTPONEMENT ANNOUNCEMENT ~

After three days of unprecented challenges for the music industry (and most industries, businesses and individuals) we're left with no choice but to postpone our party Postponed: Picnic + Niche presents Dan Shake (UK)​ next Sunday.

COVID-19 is the consuming everyone's lives and although we're don't want to add to hysteria, our's and the touring agent's decision to postpone is inline with our moral obligation to keep community safe along with government orders; namely prohibiting events over 500 people and a 14 day quarantine on all visitors to Australia which makes these tours impossible.

We've managed to get a new date for the October Long Weekend, and are working through the logistics of this now.

Thank you for your patience and understanding, please stand by... We'll have all information over coming days.

❤️ Picnic Touring & Events + Niche Productions
A name on everyone's hips for some time, Dan Shake definitely lives up to his alias.
The UK native debut EP '3AM Jazz Club/ Thinkin About U' on Moodyman's own label - Mahogani Music - springboarded his career and he's gone on to become one of the most sought after artists of the latter half of the last decade.
His infectious funky style is reflected in his selections, which ranges from Brazilian samba, disco classics, Dutch acid and heavyweight house; a unique and super danceable sound that keeps on packing out his dancefloor, all across the world.
His ability to connect with dancers is kinda... well, unshakable. We're keen!!
He'll be supported by the very able
Adi Toohey
and Oscar + Andy!