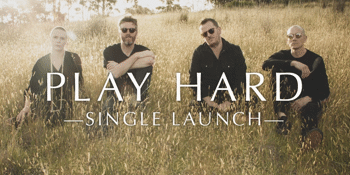 EWAH & The Vision of Paradise
Bert Shirt, Northern Subs
Saturday, 14 March 2020 8:30 pm
EWAH & The Vision of Paradise launch Play Hard, the second single lifted from the band's upcoming LP, the follow up to critically acclaimed album Everything Fades to Blue. Themes for the next record deal with mythological idylls of paradise, consumerism and a planet in crisis.
EWAH & The Vision of Paradise are based in Hobart Tasmania. One reviewer pitched their sound as "epic post-punk with a scope as wide as the Australian skyline."
The band's debut release, Everything Fades to Blue captured attention nationally overseas, including Jarvis Cocker's Sunday Service on BBC Radio 6 (UK), Henry Rollins on KCRW radio (USA) and back in Australia, was album of the week Edge Radio (Hobart) and Top Ten Albums of the Week PBS (Melbourne). Single Walk the Night picked up regular play on Double J.
In April 2017, Everything Fades to Blue made The Guardian's top ten listing of Australia's best underground releases and was longlisted for the Australian Music Prize (The AMP) 2017.
EWAH & The Vision of Paradise have played festivals including Mona Foma, Party in the Paddock, A Festival Called Panama, Dark Mofo, BIGSOUND and Junction Arts Festival.
In 2017 they won the National Live Music Awards for Best Live Act Tasmania and were nominated again in 2019.
In March 2019 they released stand-alone single Cannibals, a song about consumerism which hit #5 in the Amrap metro charts and high rotation on community radio stations like 2SER.
Their next album is due later in 2020.

Supports:
Northern Subs + Bert Shirt