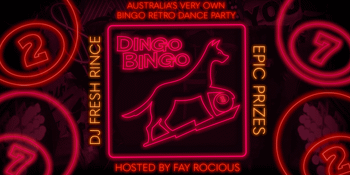 Hosted by Fay Rocious & DJ Fresh Prince
POSTPONED - Dingo Bingo
Australia's very own bingo retro dance party
The Newport Hotel (Fremantle, WA)
Fri 20 March - Thu 1 October 2020 8:00 pm
It's BINGO but not as you know it... this is BINGO's bastard love child

What is Dingo Bingo? We play Bingo but flipped on its head.. A drag queen host, Perths best retro DJ smashing out bangers all night, the hypest hype crew, take you through Aussie anthem rounds, lip-sync battles, dance offs, confetti explosions and a selection of different prizes each show, ranging from a bottle of Sambuca, a Donald Trump cardboard cutout, to a trip to Mandurah... satisfaction guaranteed.

All rules explained on the night!