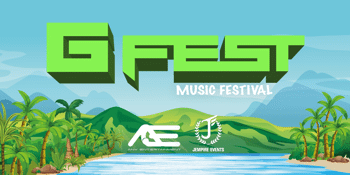 Jempire Events and Any Entertainment present
G FEST
Grafton Racecourse (Grafton, NSW)
Fri 20 - Sat 21 December 2019 4:00 PM
G Fest - Grafton's BIGGEST Music Festival returns this year to the beautiful Grafton Racecourse. Featuring an amazing line-up of some of Australia's best EDM acts to ever perform in the Clarence Valley along with a sound, lighting and visual FX show designed to completely immerse and stimulate your senses for the ultimate music festival experience! G Fest will feature the likes of Teddy Cream, Press Play, Natalie Sax, Courtney Mills, Like Liquid, Luke La Beat as well as some of Grafton's favourite local DJ's."

Team Cream -
Who is Teddy Cream? Rewind back to 2010, two young individuals at the ripe age of 13 come together to make a one off track.. Unknown to them this one song would set off a motion of events, and an everlasting friendship, leading to one of the hottest young duo's to have ever risen out of the Melbourne club scene. Today these boys go by none other than Teddy Cream. They have grown in stature since those early days and have been voted Top 10 favourite DJs in Australia in the ITM people's choice awards two years in a row. They have destroyed dance floors all over Australia and have now started making their mark in Europe, Asia & the United Kingdom. Teddy Cream graced some well known festivals such as Creamfields (two years in a row), Ultra Europe, Chroma Festival Philippines, Good Life Festival, MTV Beats & Eats & more.

Press Play -
Press Play might hail from the small town of Bendigo in rural Australia, but his national (and international) appeal has seen him relocate to Melbourne to become one of the most in-demand Australian DJs. Armed with an exclusive arsenal of original works & remixes, Press Play has enamoured himself to crowds that stretch the breadth of Australia and beyond. Regularly touring Australia, Press Play has featured on some of the world's largest music festivals alongside the world's biggest acts – most notably Creamfields in the U.K. – the worlds biggest music festival. He then went on to be booked on the Australian Creamfields main stage in 2017 alongside Deadmau5, Dimitri Vegas & Like Mike & more.