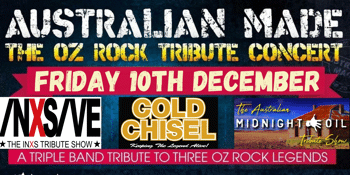 Live at Your Local
Australian Made - The Oz Rock Tribute Concert
Shoppingtown Hotel (Doncaster, VIC)
Friday, 10 December 2021 8:00 pm
Shoppingtown explodes with an Oz Rock Trifecta bringing together the music of three of Australian Rock music's biggest bands, INXS, Cold Chisel and the mighty Midnight Oil!! Australia's most renowned tribute bands INXSIVE, Gold Chisel and The Midnight Oil Show come together in one super concert at one of Melbourne's most iconic live music venues...
INXS helped shape the Australian musical landscape in the 80's and 90's. Cold Chisel we're unquestionably one of the finest and most respected rock groups in Australian history. And Midnight Oil were more than just a rock & roll band!!
Join Inxsive, Gold Chisel and The Oils for "Australian Made"!!!