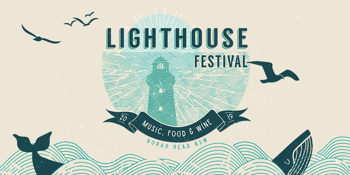 Nice Try presents
Lighthouse Festival
Xavier Rudd + The Sea Gypsies + More to be announced
Norah Head Lighthouse (Norah Head , NSW)
Saturday, 16 November 2019 2:00 pm
*This is an 18+ event*

Got an appetite for a day with good friends, great food, amazing wine, and sweet tunes? Why don't we throw in a view of the ocean?
Escape to historic Norah Head NSW on Saturday 16th November, for a brand new music, food & wine gathering, set against a stunning backdrop.
Lighthouse Festival is a one-day boutique festival, fusing a mini food and wine fair with a laid back music festival, staged at Norah Head lighthouse. Perched on a headland overlooking the Pacific Ocean and Norah's exquisite coastline, it's without doubt one of the more breathtaking festival locations in Australia.
Headlining the music element is one of Australia's all time greats, Xavier Rudd. Hailing from Australia's surf hotspot Torquay, Rudd kickstarted his career in 2002 with the now classic album To Let, before going on to release seven studio LPs over the next thirteen years. He has earned accolades of every kind, Gold and Platinum certification, and legions of fans who love him with an inextinguishable passion. Yet, with each new release, Xavier Rudd continues to surpass expectation and produce his finest work to date.
Joining Xavier on the headland stage, is Central Coast locals The Sea Gypsies, with more to be announced in the coming weeks.
As well as some fine musical acts, Lighthouse Festival is set to announce a delectable list of boutique wine, craft beer and gourmet food offerings.
Guests will be able to enjoy wine tastings on arrival before heading to the grassy hill to indulge in delectable picnic hampers and some of the Coast's best live music. As the sun sets and the headlight shines, the picnic will become a party. The food & wine space will come alive delivering culinary delights to get you buzzing for the main event.
The Lighthouse Festival is one of the marquee events of the Lake's Festival, which aims to celebrate the region's abundance of naturally beautiful spaces, and activate their use in the community.

Additional Ticketing Information:

EARLY BIRD
Discounted Early Bird Tickets are on sale for a limited time from Friday 2nd August - 9am until midnight Thursday 8th August.

VIP TICKETS
Treat yourself with a Lighthouse Folk Festival VIP ticket. You'll get your own furnished space close to the stage, your own bar & toilet and a complimentary festival tumbler!
DOUBLE DATE
Grab your mates and book a double date for Lighthouse Festival. Save $30 on the price of 4 General Admission tickets.

PICNIC HAMPER
Enjoy a delectable picnic hamper for 2 with cheese, cured meat, fruit, bread & crackers plus 2 festival wine tumblers. Pre-purchased Picnic Hampers can be picked up at the festival gate on entry.