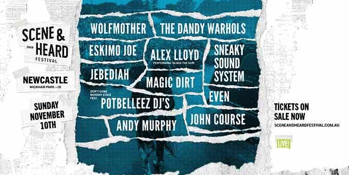 Mothership Events presents
Scene & Heard Festival - Newcastle
feat. Wolfmother, The Dandy Warhols, Eskimo Joe, Alex Lloyd, Sneaky Sound System, Jebediah, Magic Dirt, Even, Potbelleez DJs, Andy Murphy & John Course
Wickham Park (Newcastle, NSW)
Sunday, 10 November 2019 12:30 PM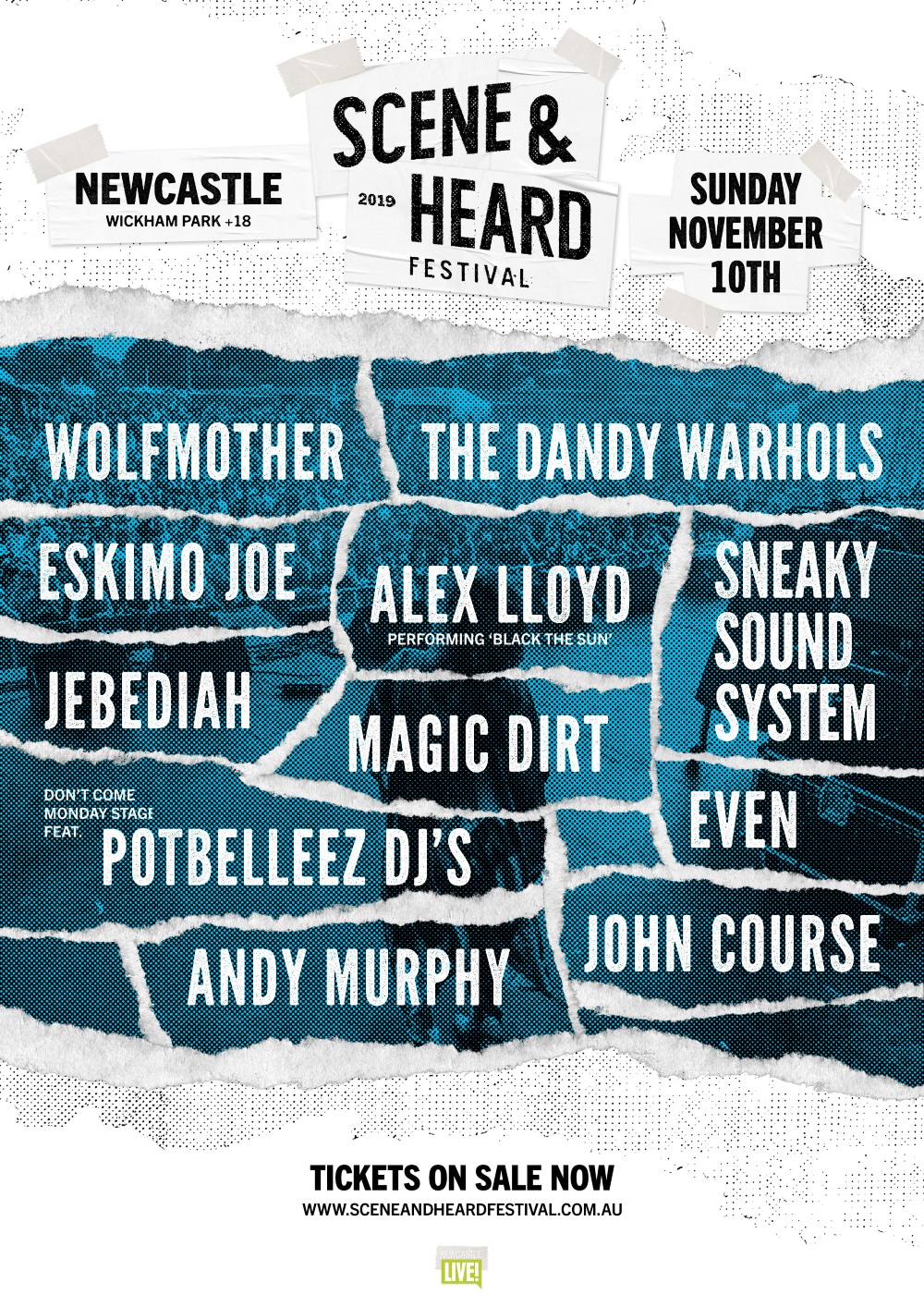 SCENE & HEARD FESTIVAL
SUNDAY 10 NOVEMBER | NEWCASTLE
WICKHAM PARK | 18+
(Supported by Newcastle Live)
YOUR CLASS OF 2019:
MAIN STAGE -
WOLFMOTHER
THE DANDY WARHOLS [Celebrating their 25th Anniversary]
ESKIMO JOE
ALEX LLOYD (Performing Black The Sun)
JEBEDIAH
SNEAKY SOUND SYSTEM
MAGIC DIRT
EVEN
DANCE STAGE -
POTBELLEEZ DJ'S
ANDY MURPHY
JOHN COURSE
The 'Ultimate' VIP Experience
Inclusions are;
A stage front private viewing lounge with your own premium services and amenities. Games, gastronomy and a private bar with your own exclusive cocktail listing.
VIP Cocktail
On arrival, collect your medallion, and cash it in at the VIP bar.
VIP Food
Newcastle's favourite and iconic bar, restaurant …just all round, The Edwards is the heartbeat of foodie scene in Newcastle! A lifestyle experience exclusive to VIP Guests.
A Pre Booked Dining Experience
Pre-book your seat at The Edwards Table Service Eatery, for a unique event within and event.
A bespoke range where you can 'Eat like an Artist' from the menu curated for our very own musicians. Bookings are limited, look out for sessions times and availabilities (to be announced).
Minute Massage
For a personal touch, have a quick shoulder massage by our professional therapists. First in best dressed!
Glitter Fairies
Transforming your look by our Glam team Glitoris with glitter make up, hair braiding and beard pimping. Look out as they fly through with their random acts of glitter.
Powder Room
A powder station will offer lotions, scents and mirrors so you can keep looking fresh during the day.
Ultimate Access
VIP Access Lane to Artist Signing Tent and main festival bars.
Ultimate Merch
All VIPs will have access to an auto 10% off all festival merchandise, just present you VIP band!