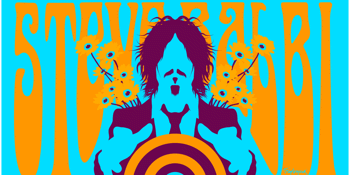 Steve Balbi
The Lounge (Royal Hotel) (Nundah, QLD)
Friday, 4 June 2021 8:00 PM
Triplespeak proudly presents Steve Balbi – Intimate 'n' Eclectic – for one night only at The Lounge (The Royal Nundah) on Friday the 4th of June 2021.
Celebrating the digital release of his new record, I Think I Know For Sure, Steve Balbi will perform an exclusive show in intimate, acoustic mode, featuring songs from his new record alongside reimagined out-takes, hit picks and favourites from a colourful catalogue of words and music that includes Noiseworks, Electric Hippies, 1980s new-wavers Mi-Sex, and more.
The COVID takedown has meant many things to many people. For the creative chameleon, Steve Balbi, it was time to peel-back yet another layer of skin to reveal an entirely new pigment – an iridescent sunburst that is orange in colour, melody and tone – taking time in his home studio to compose a new fabric of songs, I Think I Know For Sure. It is out now on CD and Limited Edition 12" vinyl.
Reflecting upon living in isolation, Balbi concedes, "It allowed me to sit back, slow down and take stock, while it became increasingly clear to me what really matters. Simply, family, friends and creativity are my world. I willingly went back to basics and was inspired to make a body of work that echoes the music that inspired me as a child. It feels as though this record has been waiting for me for years. And it's the opposite of what seems to be popular right now. Perhaps for that reason alone, I love it even more. I think I know for sure.