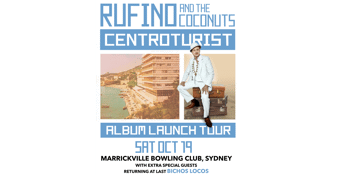 Rufino and the Coconuts - Album Launch 'Centroturist' LP
Bichos Locos
Marrickville Bowling Club (Marrickville, NSW)
Saturday, 19 October 2019 8:00 PM
A tropical musical explosion awaits when
Rufino and the Coconuts
launch their
debut album Centroturist -
Saturday
October 19
at Marrickville Bowling Club, setting audiences on an island jungle quest for summer.
Inspired by classic surf and Caribbean music, with a touch of 80s post-punk, smooth jungle disco and pinch of B-Grade thriller soundtracks, the rocksteady rhythms on Centroturist promise good time tropical pop.

The Coconuts are one of the most truly dynamic and entertaining live acts in Australia combining theatrical concepts with a wild energetic rock show and an 8-piece band to stir your bones on the dancefloor. With humour, exhilaration, celebration and a pervasive mood of jungle intrigue, Rufino and the Coconuts are a full live experience.

Sailing on a raft of sixties guitars, seventies synthesisers and a crate of souvenir-junk percussion, Centroturist is entertaining and ridiculously wry, telling the stories of Caribbean dentists, jungle misadventures, cray fishing and near-death love affairs, all delivered with a bone rattling backbeat.

The LP will be available on Vinyl and CD - FOR THE FIRST TIME at the show!

WITH extra special guests - Surf guitar legends Bichos Locos returning for the first time in 3 years!