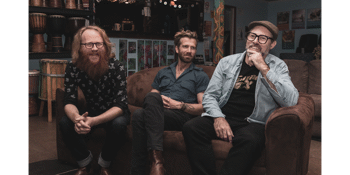 Owen Campbell & The Cosmic People
with special guest SMITH & JONES
The Great Club (Marrickville, NSW)
Sunday, 5 December 2021 6:00 pm
Owen Campbell & The Cosmic People are alternative blues and soulful cosmic rock at its best. Smouldering guitar work running from bluesy riffs and soulful finger-picking to lap steel guitar solos using a shot glass slide, gritty caramel vocals and a sublime rhythm section.
After 3 best-selling studio albums, 2 EP's, and over 12 years of international touring, Owen Campbell has cemented himself as one of Australia's premier alternative blues exports.
He has performed in many corners of the world, including the highest blues festival in the world - The Himalayan Blues Festival in Kathmandu Nepal.
Every album has hit the Top 10 on iTunes Blues Charts in over 10 countries. One of which - "Sunshine Road" - reached Number 1 on the overall charts (Australia) knocking Adele of the top spot in 2014.
"One of the best performers to come out of Australia for quite some time."
Argus News Ireland
"Owen Campbell brings us a sound born and bred in American southern country blues all the way from the Land of Oz."
Blues Blast Magazine (USA)
"He propels with explosive anguish and undeniable charm!"
Glide Magazine (USA)
"Campbell possesses an exceptional musical personality. You wholeheartedly believe every note he plays and sings."
Rhythms Magazine
Supported by: SMITH & JONES
Smith & Jones, a duo from Bathurst, made up of keyboard player and vocalist Abby Smith, with guitarist and vocalist Sophie Jones, have never been ones to follow the pack. Though classified as alt-country, their goal has never been to remain within the confines of any genre, preferring to let their sound and their songs take them where they will.
https://www.facebook.com/SmithandJones.music
Doors at 6.00 pm with our kitchen Girls Gotta Eatery open for dinner and snacks - full menu available
here