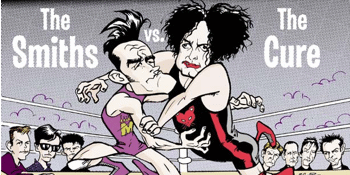 Code One & Access All Eras presents..
The Cure...Vs The Smiths - Early Show
Brass Monkey (Cronulla, NSW)
Saturday, 15 May 2021 5:30 pm
Access All Eras presents: The Cure...Vs The Smiths
"How Soon Is Now" or "A Forest" ? "This Charming Man" or "Just Like Heaven "?
Featuring some of Sydney's hardest working musicians, the band chooses some of these iconic band's most loved songs and faithfully performs them with a likeness to the original recordings. Head to head. The Cure Versus The Smiths
The band traces the Cure's musical evolution from the early new wave hits from the late seventies like Boys Don't Cry and A Forest through the creative zenith of mid eighties dark hits like Lovesong and Fascination Street to the modern hits such as Friday I'm In Love, In Between Days, Close to Me and of course Love Cats.
And tackling The Smiths short but illustrious career kicking off with early singles "Hand In Glove " and "This Charming Man" through the epic "How Soon Is Now" and melancholic "Please Please Please Let Me Get What I Want" and picking heavily from the Classic "The Queen Is Dead" album which is 35 years old this year.
Capturing the music scene from the late seventies to more recent years, The Cure Vs The Smiths pays tribute to two of the most iconic bands of the last 40 years Gothic pop and indie rock at its best from Three Imaginary Boys to Strangeways Here We Come, the band features:
Sam Joole - vocals
Chris Alford - keys and Vocals
Dave Kirby - Drums
Jason DeWilde - Guitar
Cameron Lees - Bass
Faithfully recreating The Cure and The Smiths hits and fan favourites