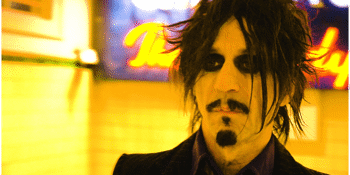 The Harbour Agency
Steve Balbi
With Special Guest James Van Cooper
The Junk Bar's Skukum Lounge (Ashgrove, QLD)
Thursday, 28 November 2019 7:00 pm
The creative chameleon, Steve Balbi, returns to Brisbane for the first time in far too many years, for one night only – Thursday 28 November – with very special guest James Van Cooper.

Transcending rock and pop while coalescing sentimentality and soul, Balbi promises an eclectic set of new material, featuring his latest single 'Every Living Thing', alongside reimagined favourites and out-takes lifted from a back catalogue of music that includes Electric Hippies, Noiseworks, Universe, Move Trees, and more. Navigating a wistful path from melancholy through madness, meanwhile mining a kaleidoscope of life at the margins, Balbi and Van Cooper's exclusive appearance at The Junk Bar on Thursday 28 November features two of Australia's most remarkable songsmiths; intimate 'n' acoustic, but live 'n' electric.

The music of singer, composer, performer and producer Steve Balbi mines a kaleidoscope of life at the margins. Transcending rock and pop while coalescing sentimentality and soul, Balbi bespeaks Bowie and Dylan in melody and verse, exploring the heterogeneity, refinement and dirty rotten groove of Radiohead.

First cutting his chops on bass with Kevin Borich Express at just 17 years of age, Balbi was very much a child prodigy. Yet Balbi is perhaps best known for his song-writing partnership with Justin Stanley; first founding and producing Aussie chart-toppers Noiseworks (1986), before forming the Electric Hippies (1993). These days he also fronts 1980s new-wavers Mi-Sex, who this year celebrate the 40th Anniversary of Graffiti Crimes. The LP and hit single 'Computer Games' scooped the pool at the 1979 Countdown/TV Week Awards, winning Best Album, Best/Most Popular Single (Computer Games), Best Producer (Peter Dawkins), and Best New Artist.

James van Cooper, on the other hand, is a young Australian songwriter who gravitates towards alt country and Americana; with the flair of Ryan Adams and integrity of Jason Isbell. He began to blaze his own trail in the world of cool country rock when he packed his bags and headed for Nashville to record his debut LP, Coming Home, with producer Scott Campbell at the helm. While in the US, James opened for some of LA's finest, including Matt Pynn and Alt. Country sweetheart, Jaime Wyatt; who performs a duet on the track, 'Come Home'. Van Cooper is a flamboyant performer and heartfelt songwriter, renowned for his catchy hooks and twangy guitars; a wild and complete guitarist who leaves an audience in smoking ruins.

In his late teens, JVC struggled with addiction and by 20 years of age won his hard-earned sobriety. This road to enlightenment was, in part, harnessed to inspire James' debut EP, High-rise Skyline (2017); the making of which guided by Australian Country Music icon Bill Chambers. Together they toured Australia and Europe.

More recently, Balbi and Van Cooper have cultivated an exquisite union themselves, having first met when JVC was but a boy. Both current members of Mi-Sex, they've recently co-written and recorded a song, 'Getting Close', which they'll perform live for the very first time at The Junk Bar on Thursday 28 November. Indeed, this is one show, for so very many reasons, not to be missed.