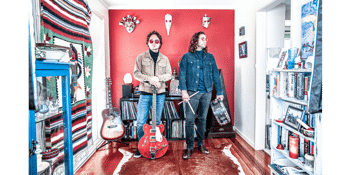 Square Dance Caller (Single Launch)
with Silent Income, Rory Newman
The Workers Club (Fitzroy, VIC)
Thursday, 27 May 2021 7:30 pm
FACEBOOK EVENT
2020 was a rollercoaster year for the world, but out of the strangeness of it all the debut album from Square Dance Caller was born. Brothers Brendan & Michael Etherington spent the months of the Melbourne lockdown carefully crafting the 10 vibrant songs on their eclectic new album, drawing on everything from isolation to karma and even a lost dog's home for song inspiration.
With the brothers playing all the instruments and self producing the album, the grooves and jams were carefully constructed in the studio and the soulful, vibing flavour of the album came together to create a fresh and unique sound.
With influences from multiple genres including soul, hip hop, rock and pop, SDC possess a sound that could be a mixing pot of Arctic Monkeys, The Cure, Gorillaz and The Clash.
Square Dance Caller are excited to launch the lead single from the album; 'Swimming Pool' as well as perform all the songs from the debut album live for the first time.
Supporting them on the night is the skillful singer songwriter Rory Newman and the very talented Ryan Oliver and his band.