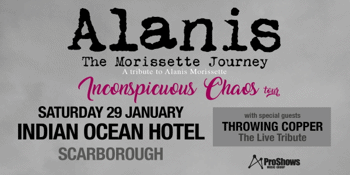 Proshows Music Group presents
Alanis – The Morissette Journey (A Tribute to Alanis Morissette) | Scarborough
with special guests THROWING COPPER - THE LIVE TRIBUTE
Indian Ocean Hotel (Scarborough, WA)
Saturday, 29 January 2022 7:30 pm
ALANIS – THE MORISSETTE JOURNEY (A Tribute to Alanis Morissette) honours one of the 90's most acclaimed artists, Canadian songstress Alanis Morissette. She was a voice of a generation with a career spanning over 3 decades. Her music and her messages continue to be just as relevant today as they were back then.

ALANIS – THE MORISSETTE JOURNEY featuring the incredibly talented Rachel Vidoni and a band of highly respected passionate musicians on stage; will deliver a show that will have you dancing and singing along to many of the Alanis anthems long after the show has ended.
The "Inconspicuous Chaos 2022 Tour" covers songs across Alanis Morissette's 25-year musical legacy. Our promise to you the fans will be a heartfelt, passionate, high energy show featuring songs such as You Oughta Know, Ironic, Hands Clean, Woman Down, All I Really Want, Thank You, Hand in Pocket, So Unsexy and many more. This is a show you will not want to miss.
Come and be a part of the journey with us @alanis-themorissettejourney.
with special guests
THROWING COPPER | THE LIVE TRIBUTE celebrates the best of "Live" in a one-hour dedication to one of the greatest rock bands of the 90's. In 1994 the band released its ground breaking album Throwing Copper which cemented their place in musical history and made them a worldwide sensation. This is a tribute to their great work. Performing such hits as Lightning Crashes, I Alone, All Alone, Lakini's Juice, Selling the Drama, Heaven, Freaks, Operation Spirit and many more.

For all ALANIS – THE MORISSETTE JOURNEY show info and tour dates visit:
www.facebook.com/alanisthemorissettejourney