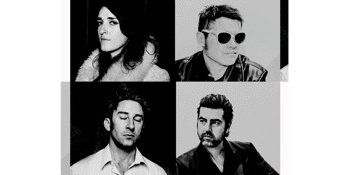 Pony Face
The Bridge Hotel, Castlemaine (Castlemaine, VIC)
Friday, 13 March 2020 9:00 PM
Pony Face breaks radio silence for the first time this decade trying out a brand new set of material
destined to be released late 2020. The new set promises kraut disco punk goth inspired bangers with a side order of some fucking bangers.
Bring your dancing shoes.
"Pony Face are pure class. Unhurried sonic explorers looking for light even in the dark, quiet corners of song. Despite their impressive back catalogue, one has the sense their best work is still to come..."
Karen Leng - DoubleJ
"The groove is in the spaces in between. They allow the music to breathe with possibilities, their supple songs insinuate themselves into the mind, their playing fuses them with the imagination. They are so much more than the sum of their parts"
Stephen Walker RRR FM
"The first time I ever heard Pony Face I was hypnotized and agitated all at once. I couldn't move until I inhaled every last, achingly beautiful sound, but I also had that impatient need to find out who the fuck they were and where they were from.." Looking very forward to whatever they do next."
Fee B Squared RRR FM 102.7FM

Across several albums Pony Face has consistently delivered weighty musical explorations, with touches of psych, kraut, jagged electronic elements and a deep, rock timelessness.Wrapped up with a sense of the improvised - with band members so intimately across one another's playing - Pony Face are assuring in their ability, thrilling in curiosity, and hold nothing back. One of my absolute favourite acts. Their albums translate to a mesmerising and solid live show.
Maddy McFarlane - PBS FM
Pony Face have well and truly established themselves as one of the most revered & beloved bands in the Melbourne music scene. Pony Face have garnered a rare kind of praise for their live shows and records which has earned them the opening spot for Lee Ronaldo (Sonic Youth) Bombino and Augie March. They've played headline slots at Boogie Festival, Summer of Soul, Kyneton Music Festival, St Kilda Festival, Hunter Valley Gumball Festival, Apollo Bay, Hills are Alive Festival, Darebin and Brunswick Music Festival.
Pony Face's music is a sonic kaleidoscope, encompassing psych/surf guitars, doom drums, bass lines moulded from rock bottom and sampled textural layers which have become synonymous with a loud spacial sound. With the recent addition of Synth/singer Katie Scott, the band has dazzling energy that captivates intimate rooms and packed houses.