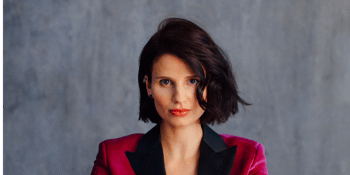 Niche Productions & Potts Entertainment
Imogen Clarks and Friends Jam Party
Low 302 (Surry Hills, NSW)
Tuesday, 25 May 2021 7:00 pm
To celebrate the release of her new EP Bastards, local indie star Imogen Clark is bringing her rock trio (Clayton Doley on piano and Luke Davison on drums) to Low to wrap up her residency with a bang. This show will be loud and a bit loose, a party to celebrate the end of Imogen's residency and the unveiling of her best record to date, with special guests including Frenzal Rhomb's Lindsay McDougall and Queensland singer-songwriter Hayley Marsten joining Imogen and the band throughout the night for Imogen's most high energy songs and special versions of their favorite classics.
Despite the myriad challenges that 2020 brought to the music industry, Imogen had a banner year - she released a critically acclaimed EP, played a sold-out livestream concert series, performed back-to-back sold-out Sydney launch shows in September, dropped a nostalgic Christmas single, and wrapped it all up with an epic First Annual Holiday Hootenanny gig with her musical mates – including Montaigne, Jack Moffitt (The Preatures), Lindsay McDougall (Frenzal Rhomb) and more.
The 26 year old has lost none of her momentum in 2021, with her incendiary single 'Never This Time' a powerful preview of her upcoming EP 'Bastards'. The six-track collection, begun in person in LA with a cast of rock legends, then later finished remotely over Zoom during the pandemic, is the most powerful and intense music Clark has released to date.
Reteaming with LA-based producer Mike Bloom (Julian Casablancas, Jenny Lewis), Imogen builds on the rich, dynamic sound of her last EP, taking everything to a new level – the drums hit harder, the guitars are louder, the emotions more intimate and transparent. Across the six songs, Imogen sings about betrayal in love (Forget About London), a couple too afraid to end a doomed relationship (Casualty), her family's history of addiction (Never This Time), the loss of her mentor to suicide (First Class Man) and the men in the industry who refuse to see women as their equals (Bastards).