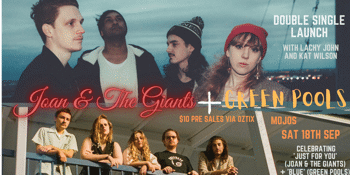 Joan & The Giants & Green Pools 'Double Single Launch'
Supports from Kat Wilson & Lachy John Band
Mojo's Bar (North Fremantle, WA)
Saturday, 18 September 2021 8:00 PM
Powerhouse Perth bands Joan & The Giants and Green Pools come together to launch and celebrate their latest singles at Mojos Bar Fremantle on Saturday September 18th 2021, with support from Lachy John and Kat Wilson.
Alt-pop band Joan & The Giants have had a huge 2021 thus far, playing a late night slot at Nannup Music Festival on the prestigious amphitheatre stage, a nighttime slot at Fairbridge festival, a packed out single launch at the Rosemount Hotel and shows all around Western Australia. 'Just for You' is the bands fourth single to be released this year featuring the breathtaking vocals of local singer 'Lilia'.
"I wrote this song for a close friend who lost her brother after our first lockdown in Perth. He faced a very long battle with depression, which tragically took his life. With a heavy heart, I couldn't stop thinking about my friend who has faced many battles with her own mental health. I wanted to send her my love and tell her how precious she is to me, so I sat down and wrote her this song. Sometimes we all feel alone and disconnected in this world, and I hope that 'Just for You' can be a song to comfort people in hard times." - Grace, Joan & The Giants
________________________________________________________________________________________________________________________
After releasing 'Neighbourhood Hero', 'Middle Eye' and 'Mystery Charmer' in 2019, Green Pools supported a variety of acts including Approachable Members of Your Local Community, Joan and The Giants, King Ibis, Last Quokka, Absent Hearts and Ribs. They return with a brand new single, 'Blue' and a brand new member, Elloise Walsh. 'Blue' is an epic, soaring triumph, a love letter written at the beginning of a break up and ending in a reconciliation.
Front-woman Tess Hutchinson says, 'The song was written just before I headed off on another trip and I was absolutely exhausted before I even boarded the plane. I forgot my sleeping bag and left it in the car and I was all over the place. It's about romanticising the notion of homecoming and returning to the person you love - and all the things that make you feel comfortable - a meal and a drink with someone you love. The song includes one of my most honest admissions: 'we started where we parted and I'm still here.' Relationships are complex and particularly long term ones, go through various iterations. But if it's the right person, it's worth the effort.