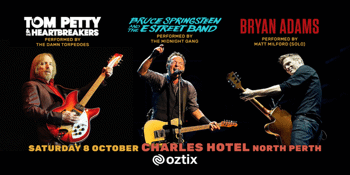 A Night of Bruce Springsteen, Tom Petty & Bryan Adams - Perth
with The Midnight Gang, The Damn Torpedoes and Matt Milford (Solo)
Charles Hotel (North Perth, WA)
Saturday, 8 October 2022 7:30 pm
In an exclusive special triple-bill event, Perth's very own The Midnight Gang, The Damn Torpedoes and Matt Milford (Solo) joins forces to present 'A Night of Bruce Springsteen, Tom Petty & Bryan Adams' at the Charles Hotel on Saturday, 8 October 2022.
Fans will be left hanging for more as all acts perform sets featuring hits from three of world's most successful artists.
Don't miss this unforgettable event. Tickets are on sale now.