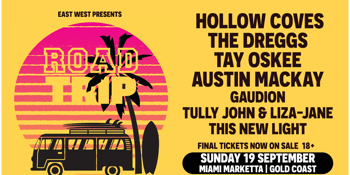 East West Presents
ROAD TRIP - Hollow Coves, The Dreggs, Tay Oskee & more
with Austin Mackay + Gaudion + more
Miami Marketta, Gold Coast (Miami, QLD)
Sunday, 19 September 2021 2:00 pm
Join us on a Road Trip....
A music event celebrating the freedom of indie folk

PLAYING TIMES
Hollow Coves 6.50pm - 7.50pm
Gaudion 6.15pm - 6.45pm
The Dreggs 5.20pm - 6.10pm
Tully John & Liza-Jane 4.40pm - 5.15pm
Tay Oskee 4.00pm - 4.40pm
This New Light 3.30pm - 4.00pm
Austin Mackay 2.50pm - 3.30pm

Doors open 2pm
An afternoon performance across two stages at Miami Marketta
Bands will start at 2.00pm and finish by 8.00pm


Leading the line up at the inaugural Road Trip event is Gold Coast based indie folk project, Hollow Coves.
Off the back of their EP 'Wanderlust' and debut album 'Moments', Hollow Coves have amassed over 200 million streams on Spotify, played sold out shows across the world and earned their first Gold Single in Australia with their breakout hit 'Coastline'.

The last 12 months for The Dreggs has seen an explosion in their loyal fanbase with 100% increases in social media followers and Spotify listeners off the back of six well received single/EP releases.
With two acoustic guitars, a foot-stomp, and a driving beat, the duo have recently sold out a national tour and are fast consolidating their place in the growing folk scene

Making his mark in Australia's Indie/Folk scene as one of the country's fastest rising Singer/Songwriters, Austin Mackay's live presence is sure to captivate any audience that he plays in front of, ensuring that he is not an act that you want to miss.