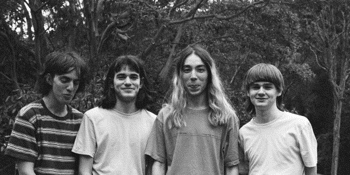 Village Sounds presents
The Lazy Eyes
Sooki Lounge (Belgrave, VIC)
Thursday, 20 May 2021 8:00 PM
With their first EP, The Lazy Eyes introduced themselves as members of psych rock's new vanguard - trained musicians and adherents of rock's golden era, capable of absorbing these influences into new melodies (Cheesy Love Song) and impulse driven riffs (Tangerine) that remain incredibly of our time.

'Where's My Brain???' is the first taste of their next chapter, a leap further into the driving rhythms of King Gizzard and Black Sabbath. Their most distorted release to date, hypnotic drums and bass that support the adventures of countless polymetric dual guitar solos. Unabashedly unkempt and distilled in its purest form, 'Where's My Brain???' is lifted from their forthcoming second EP. "We always end the live shows with this one, it's so fun and loose, " the band shared. "Even if our pedalboards have melted and our amps have caught fire, we always trust this song to bring it home."

EP2 follows what under traditional circumstances would have been a breakout year for The Lazy Eyes, spent showcasing at a would-be SXSW, The Great Escape and Splendour In The Grass. Instead, the band regrouped to Lindfield Studios, revitalised and focused on bringing more recordings to life with their new lineup. Today, The Lazy Eyes are Harvey Geraghty (vocals, guitar, keyboard), Itay Shachar (vocals, guitar), Leon Karagic (bass) and Noah Martin (drums). At 15 years old, they met at a performing arts high school which provided fertile ground to pursue their creative endeavours.

In the time since, the group have built a cult following with their magnetic live set. Long before their debut single, word of them spread like wildfire. This eventually reached the BBC's Abbie McCarthy who aired the then unreleased 'Cheesy Love Song' during a takeover on Australia's national youth broadcaster, triple j. In the year that followed, their debut EP saw The Lazy Eyes sell out headline shows, amass a combined 1.5 million streams and receive praise from the BBC's Matt Wilkinson, Bandcamp, Atwood Magazine, American Songwriter, Monster Children, land at #17 on triple j Unearthed's Top 50 Most Played Artists of 2020 and many more. If their position in the coveted NME 100 for 2021 is any indication for the year ahead, The Lazy Eyes promise to hold nothing back.