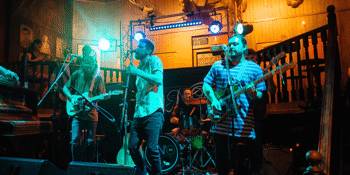 Fire & Whistle Theory - Woman Single Launch
with Special Guests Suicide Swans and Sean Gagen
Studio 188 (Ipswich, QLD)
Saturday, 15 December 2018 6:30 PM
Fire & Whistle Theory are set to deliver new music having just announced the release of their first single 'Woman' from the groups highly anticipated upcoming second EP 'Take Me Alive'!
Come celebrate and see the band in action live at Ipswich's Studio 188 with special guests Suicide Swans and Sean Gagen! Tickets on sale now!
Is this the new sound in the making when we are all caught up in the glare of the new world? Some would say yes, while others just bury their heads in the sand....
Fire & Whistle Theory
What wets the whistle in a time of need is the sound of Ipswich-siders Fire and Whistle Theory parading themselves around in the dusty western landscape of blues and rock. Too old to carry the weight of the world on their shoulders and too young to lighten the load, main players Greenwood, Vogel, Locke, Birnie and Rosenthal harness a power in their approach. Modern in appearance but classic to the core, the five-piece outfit have masterfully captured a fresh take on indie-blues with a slice of alt-country thrown in the mix for good measure.
Suicide Swans
Suicide Swans are a 5-piece band from Toowoomba/Brisbane/Ipswich mixing the twang of country, the chug of 60s/70s rock and dashes of pop in what they describe as cosmic country. Their first album Ghosts We Forget solidified their country roots while the follow-up Augusta featured more exploratory atmospheric textures. Their latest album La Jungla goes even further; an 84 minute sonic journey recorded completely live in a single day, capturing the spontaneity, excitement and potency of their live shows.
Sean Gagen
Sean Gagen has had a strong love for music and performance from an early age. Known for his work as the front man of Ipswich based band Ball Of String, Sean crafts noteworthy vocal melodies accompanied with the strum of his guitar. Through his career Sean has had the opportunity to perform at the Woodford Folk Festival and received recognition for his song writing skills at the Queensland Music Awards.