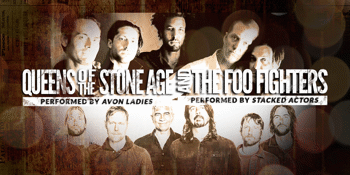 Champion Music
A Night of Rock Tributes to Foo Fighters + QOTSA
Saturday, 1 February 2020 8:00 pm
The history between Foo Fighters and Queens Of The Stone Age since the late 90's is undeniable.

With both bands having toured together and Dave Grohl playing on QOTSA's incredible Songs For The Deaf album, it would only make sense that Perth's best (and only) tribute bands would team up to deliver a night of music by these two titans of modern rock music.

STACKED ACTORS (Foo Fighters) and AVON LADIES (QOTSA) play full career spanning sets from both bands, playing all the hits and their best deep cuts.

Expect to hear songs like I'll Stick Around, Learn To Fly, Everlong, No One Knows, My God Is The Sun, Regular John, Rope, Monkey Wrench, The Evil Has Landed, A Song For The Dead, Best Of You and so much more!