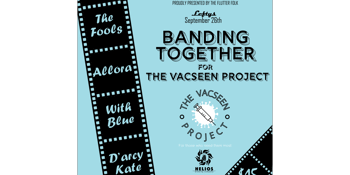 The Flutter Folk
BANDing Together for the VacSeen Project (#BANDing4VacSeen)
DÁrcy Kate, With Blue, Allora and The Fools
Lefty's Music Hall (Brisbane, QLD)
Sunday, 26 September 2021 6:00 PM
The time has come to yet again BAND together to join the innovative directors behind The VacSeen Project to shine light on those who remain in the dark, to provide flu vaccines to people experiencing homelessness or other difficult circumstances.
For those 1 in 200 experiencing homelessness, their issues remain as unseen as they do; but this does not make them any less pertinent. Despite their high-risk status, people experiencing homelessness are NOT entitled to an influenza vaccine under the National Immunisation Program (NIP).
Be a one in a million to help us help that 1 in 200 this flu season, and all flu seasons.
With one ticket, you give us means to protect a friend from the flu, and we give YOU D'Arcy Kate, With Blue, Allora and The Fools! And more! Helios Brewing is in on the fun, and supporting our great cause. Grab a schoonie, be groovy and help us protect our friends from the boogies!