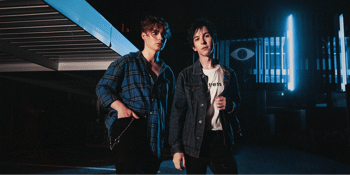 Yeah That Agency presents
CULT THERAPY: A Those Who Dream Experience
HQ Venue & Skate Park (Leederville, WA)
Saturday, 6 February 2021 7:00 pm
Those Who Dream is an Australian alternative rock duo and multifaceted creative project of brothers Josh and
Cooper Meyer. Their explosive, unorthodox sound and nakedly honest lyrics has not only earned them the
acclaim of Pop Buzz, Rock Sound and Alternative Press; but more importantly, a cult-like following across the
world.
The Meyer brothers are as DIY as it gets, having taught themselves filmmaking, 3D animation, marketing, design,
music production and songwriting since they were growing up. The sum of these talents can be best seen in the
duo's extravagant music video for their breakout single 'Violet', featuring eerie visuals reminiscent of surreal,
psychological-horror cinema.
Since going viral on TikTok, their 'Life in Cyan' EP debuting at #4 on Apple Music's Rock charts and embarking
on a nationwide tour with The Faim and Between You & Me, the duo are quickly amassing a die-hard fanbase.
With their core songwriting themes of insecurity, mental health, and self-discovery, the duo are able to put words
to feelings that most people struggle to. Often clad in Cyan, (Those Who Dream's signature colour) and clutching
art featuring a slew of other references to the band, you only have to take one look at the fans lining up at a
Those Who Dream concert to understand how much the band means to them.
Growing up perpetually fascinated by all forms of art; the brothers quickly learnt to channel their own struggles
and emotional turmoil into creative expression. After creating individually and experimenting in bands it quickly
became apparent that their best work was created together.
"You've gotta be so emotionally vulnerable when you're creating with someone else, but the fact that we're
brothers and have been close since birth really just takes all the pressure off," tells Cooper. "It creates this really
safe space where we can be super honest with each other and experiment without judgement."
Turning their family home into a one-stop-shop for creativity; a regular day for the brothers sees them jumping
from filming and directing videos, designing merch, websites and artwork, to taking their pick of instruments and
whipping up a studio quality track within hours in their spare room.
With the quality, scale and experimentation of the duo's output only growing by the day, it's clear Those Who
Dream have a bright and exciting future ahead of them in the music industry and beyond.