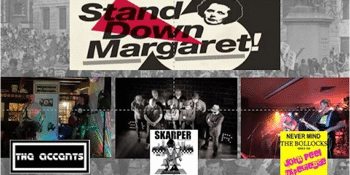 Skarper Rude Boys Entertainment
Stand Down Margaret
feat. Skarper, The John Peel Experience & The Accents
Friday, 12 August 2022 8:00 PM
• Skarper is one of Perth's leading Ska bands with emphasis on the UK Two Tone era of The Specials, Madness, The Selecter, The Beat and Bad Manners. This high energy 8-piece band is always a guarantee to have the dance floor packed and skanking. Polish your Doc Martens, iron your Fred Perry, make sure your pacemakers are fully charged and prepare to dance like it's 1979 again.

• The John Peel Experience are Perth's hardest rocking punk cover band. Playing old school classic punk rock by The Sex Pistols, The Clash, The Buzzcocks, Sham 69 and many more. Punk's not dead as long as the John Peel Experience are around!

• The Accents are an acoustic duo performing the best of hits from the 80's and 90's UK music scene including Britpop aand Madchester as well as other alternative and indie bands. Britpop acoustic anthems at their very best.