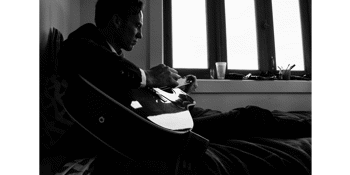 Jamie Hutchings w/ special guests Mark Moldre + Simone East
Mark Moldre, Simone East
Petersham Bowling Club (Petersham, NSW)
Sunday, 9 February 2020 5:30 PM
JAMIE HUTCHINGS - W SPECIAL GUESTS MARK MOLDRE
+ SIMONE EAST
The Petersham Bowling Club (Downstairs)
Sun Feb 9, 2020, 5:30 PM
Jamie Hutchings is known for his solo work as well as acts such as Bluebottle Kiss, Infinity Broke, The Tall Grass and more. Catch Hutchings as he performs downstairs at The Petersham Bowling Club with special guest Mark Moldre as well as Simone East.
Jamie's lastest release King Hits And Goldfish Memories sees over two decades of his songs stripped of all accoutrements and presented in their barest form. Some radically reshaped, some faithfully restored. All copies of the limited edition vinyl pressing have now sold out however it is available for download at http://www.jamiehutchings.bandcamp.com.
"Hutchings has played in several bands of note, to reasonable success – the fierce and flexible Blue Bottle Kiss, Infinity Broke (with Wills, brother Scott Hutchings and BBK member Jared Harrison), The Tall Grass (with Peter Fenton, of Crow) - but to my mind he is at his best in solo mode, and has rarely been better than here.'"
Photo by Dean Carey
Special guest is Mark Moldre who is launching his acclaimed third album Fever Dreams. Produced by Jamie Hutchings, Fever Dreams contains some genre-hopping sonic bedlam, fractured Americana-hued ballads, jazz-tinged standards, old-school Jungle Book style reggae and ramshackle/rollicking noir blues.
Moldre was originally scheduled to tour with Hutchings on his King Hits tour of 2019 but had to cancel due to pressing family circumstances. Join them for this one off rematch!
Kicking off the evening will be local songstress Simone East, doors at 5:30, music from 6pm.
King Hits And Goldfish Memories is available at www.jamiehutchings.bandcamp.com
Fever Dreams is available at www.markmoldre.bandcamp.com
Both Hutchings and Moldre will be accompanied by double bassist Reuben Wills.