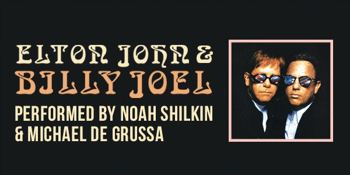 Elton John & Billy Joel Performed by Noah Shilkin & Michael De Grussa
The Breakwater (Hillarys Boat Harbour, WA)
Saturday, 19 October 2019 7:30 PM
Michael DeGrussa and Noah Shilkin - Perth's amazing duelling pianists - bring you their own incredible "Billy Joel and Elton John Show".

All those amazing hits that will make you say "I LOVE THIS SONG"!

DeGrussa and Shilkin will be joined by the incredible Steve Hensby on vocals and guitar, the inimitable Mark Gale on Bass, legendary drummer and vocalist Mick Burn and the multi-talented Dylan Hooper on vocals, saxophone and synthesizers!

You'll be singing – if not shouting along!

5 great singers, 2 grand pianos to lead you on a journey through the genius of Elton and Billy!

You should never argue with a crazy mind!

Say Candie and Ronnie have you seen 'em yet?

Count the headlights on the highway………and forget about life for a while!