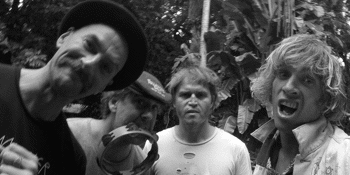 Goons Of Doom
with special guests Drunk Mums, Dicklord & Blistar
Coolangatta Hotel (Coolangatta, Gold Coast, QLD)
Saturday, 13 April 2019 8:00 pm
Goons of Doom are proud to announce their first Australian tour in over two years in support of the critically unacclaimed upcoming new album Black Skull Bong. And if you thought that was nosefull cop this: special guests Drunk Mums, Dicklord and Blistar will also be joining them on the road for an all-out bitumen fuelled fezzy of fucken filthy fruitcakes.

The limited shows run will take in five states, 10,000 beers, 80 spliffos, 340 servo pies and innumerable earthquake-sized hangovers and you can be assured of raging sets that'll liquify even the most sinewed of party hard brain cells.

"The aim of the tour is to play music and get shitfaced, but mostly get shitfaced," said guitarist and vocalist Killerwhale. "We just want to share what we reckon is our best album ever with the only people whose opinion and lifestyle choices matter… Goons fans."

Joining the Goons are Melbourne heathens Drunk Mums whose electrifying live shows, albums and eps have been wiping the smarmy grin off the face of the Australian music scene for the past five years. "Right now, they're my favourite band in Australia and I couldn't be more pumped to play these shows with them," said guitar Goons Killerwhale.

Dicklord, the rock and roll explosion from Byron Bay have been turning heads for all the right reasons with psycho performances that have them firmly in the sights of bigger and better things in the immediate future. "And they have the best name in Australian music," added Killer. "We couldn't leave home without them."

Blistar, also from Byron Bay are the guitar napalm head explosion everyone has been gagging for. The three piece take distortion to ungodly levels with sets that have been described as full blown paint peelers. "Blistar should be the biggest band in the world and the fact that they're not only further proves that the world is completely fucked," said Ozzy Wrong.