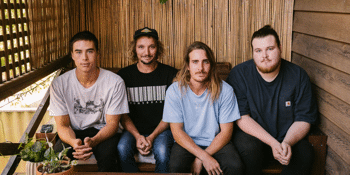 crtive mgmt & Select Music presents...
Sly Withers at YMCA HQ, Leederville
with Special Guests
YMCA HQ (Leederville, WA)
Saturday, 5 December 2020 6:00 pm
SLY WITHERS ALL AGES POSTPONED UNTIL SATURDAY 5TH DECEMBER

Due to the extension of Stage 4 restrictions in WA, Sly Withers have rescheduled their YMCA HQ show to Saturday 05 December. The band thank current ticket holders, whose tickets will remain valid for the rescheduled show. If ticket holders are unable to make the rescheduled date, you may request a refund through Oztix via this link https://forms.oztix.com.au/RefundRequest/

Gigs are back and so are we! It's been a hot minute. Sly Withers cordially invite y'all to celebrate the easing of restrictions with us at YMCA HQ on Saturday 05 December.

Let's have some fun! Don't come if you're sick or a dickhead.
We acknowledge that these events are taking place on stolen land. We acknowledge that sovereignty was never ceded and pay our respects to elders past, present and emerging. Always was, always will be Aboriginal land.
*This is an alcohol & drug free event*