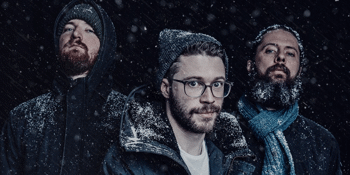 Niche Productions present
sleepmakeswaves 'these are not your dreams' Australian Tour 2020
with special guests Rolo Tomassi (UK)
Manning Bar (University of Sydney, NSW)
Saturday, 6 June 2020 8:00 PM
Australian instrumental post-rockers sleepmakeswaves have announced their first Australian tour in 2 years, taking place across May & June. The 'these are not your dreams' Australian tour will feature new music from their recently announced EP trilogy of the same name.
The band will visit Canberra, Adelaide, Perth, Brisbane, Melbourne & Sydney, playing new material and rare older tracks – as well as some classic sleepmakeswaves bangers.
UK math-rock luminaries ROLO TOMASSI will join as main support for the east coast shows in June, following their latest release 'Time Will Die and Love Will Bury It.' They last toured Australia four years ago in 2016.
sleepmakeswaves's new music comes three years since their ARIA-nominated 2017 release 'Made of Breath Only' and their well regarded cover of 'Children' by Robert Miles recorded for triple j's Like A Version the same year. In 2018/19 the band released a Metallica tribute 'To Live Is Not To Die' and took a break from writing for a tour across Australia & Europe celebrating the band's 10th anniversary.
The new record, titled 'these are not your dreams' will be released on 15 May 2020.
Rather than following a conventional release pattern, new songs will be released as a series of 3 EPs over the next few months, with 'No Safe Place' out on Feb 21, 'Out of Hours' released on April 17 and 'Not an Exit' released May 15.
The first single 'Cascades' debuted on triple j's Home & Hosed in January, with a second track 'the endings that we write' premiering on triple j's The Racket in February.
The band announced the news to fans with a typically quirky video
online here
and have added more about the shows below:
We're pretty psyched about doing these upcoming headline shows. I know bands always say things like that (we've said it a lot) but with a long break since we were last playing gigs, it feels very exciting to crank up the ol' rock-o-matic 3000 once more.

Rolo Tomassi are, as we like to say, "heaps sick" and we think overwrought instru-prog x blackened art-hXc is going to be a winning combination. Stay tuned for some great local supports on each of the shows as well.

Hooroo,
Alex and smw