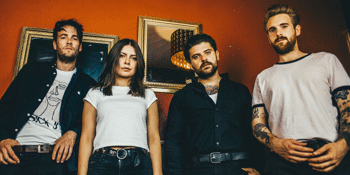 PAGAN - The Last Waltz
with Totally Unicorn + Blind Girls
John Curtin Hotel (Carlton, VIC)
Saturday, 22 February 2020 8:00 PM
Dearly beloved death punks, Pagan will perform one last ritual at their final resting place, the John Curtin Hotel on Saturday, February 22.

To blow a farewell kiss to 7 years of wild shows, wilder partying, a relentless national and international touring schedule and countless fine dining, the band will hang the neon crucifix for one more performance, and burn through a setlist comprised of numbers from their critically acclaimed 2018 full-length, Black Wash, as well as some older cult classics from Pagan's golden years.

Joining Pagan for one last dance will be the band's dearest friends, Totally Unicorn and Blind Girls. Two of Australia's most unique, chaotic and inventive hardcore bands. See them help to carry the Pagan coffin from the church to the grave.

This will be the last opportunity to bare whiteness to the pure power and visceral party that is a Pagan rock and roll show. Tickets are on sale now so make haste! They are sure to disappear soon.