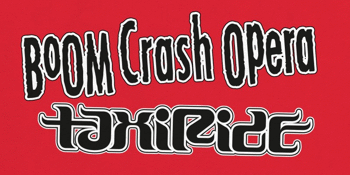 Q Live presents
Boom Crash Opera & Taxiride
THIS CRAZY RIDE TOUR 2019
Gaythorne RSL (Mitchelton, QLD)
Friday, 12 April 2019 7:00 pm
Boom Crash Opera and Taxiride announce that they will join musical forces in 2019 for the first time in 10 years for the "This Crazy Ride" tour.
The "This Crazy Ride" tour promises to be the lineup of all Aussie 90's pub-rock nostalgics dreams with a select number of shows performed across Victoria, New South Wales and Queensland.
There is no substitute for a solid catalogue of songs when it comes to live touring. The collective 'library' between Boom Crash Opera and Taxiride is extensive to say the least. Both bands have a parallel trajectory, give or take 10 years, when it comes to their history and successes.
Formed in 1985 and tipped as the 'next big thing' by a bunch of well respected music journalists, Boom Crash Opera's catalogue of up-tempo melodic rock songs include radio favorites such as 'Great Wall', 'Hands Up In The Air', 'Onion Skin', 'Best Thing', 'Dancing In The Storm', 'Talk About It' & 'Bettadaze'. The addition of new front man Andrew De Silva three years ago, has seen BCO scale new heights. De Silva's vocals scale the iconic back catalogue with ease and have only heightened the colour and musicality of Boom Crash Opera and their well renowned live performances…
With 35 odd years as a band, Boom Crash Opera continue to deliver amazing live performances. Punters were reminded about this recently on the 'Rock Radio Riot' tour earlier in 2018, with Aussie Rock legends The Screaming Jets. 100% Rock Magazine described them as 'the ever-so-funky Boom Crash Opera…They're plain and simply good fun. When they played songs like Great Wall, Onion Skin, Hands Up In The Air and Dancing In The Storm the crowd popped each time. Boom Crash Opera did not disappoint in their delivery. You can't not enjoy these pop rock legends…."
1999 saw the stunning arrival of Taxiride, four young Melbourne musicians who were to dominate Australian radio for the next 5 years and become one of Australia's biggest musical exports for the 1990's & 2000s. Taxiride is primarily a pop rock band, also drawing influences from pub rock and are frequently compared to Crosby, Stills, Nash, & Young.
Entering the charts at Number 1, Taxiride's critically acclaimed multi-platinum debut album 'Imaginate' released in 1999, featured four top 20 singles; "Get Set", "Everywhere You Go", "Can You Feel" & "Nothing In This World". The International Herald Tribune's Mike Zwerin noted the band's style of having "four lead singers, four potential front men"—Imaginate's strength was in their collective sound. Reviews for 'Imaginate' frequently referenced The Beatles, The Beach Boys, and The Everly Brothers.
The "This Crazy Ride" tour will see 2 of Australia's most beloved pop/rock outfits unite for the first time in over a decade to present a live show guaranteed to inspire live music lovers to revel in the nostalgia of the 1990's and to be reminded of how a catalogue of incredibly well honed songs holds up in the modern world.