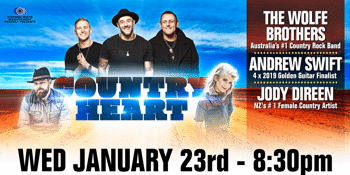 Stephen White Management presents
The Wolfe Brothers - Country Heart National Tour
with Andrew Swift and Jody Direen
The Albert Hotel (Tamworth, NSW)
Wednesday, 23 January 2019 8:00 pm
Australia's #1 country rock band The Wolfe Brothers are heading back to the Tamworth Country Music Festival for one big show at The Albert Hotel on Thursday 23rd January at 8.30pm. 2018 was a huge year for the band with the release of their highly acclaimed new album Country Heart. Not only did the band score a finalist nomination at the 2018 ARIA Awards for Best Country Album but they are heading back to Tamworth with 5 Golden Guitar Nominations. To help celebrate the release of their fourth studio album, Country Heart, The Wolfe Brothers have invited 4 time Golden Guitar nominee Andrew Swift and New Zealand's #1 female artist Jody Direen to join them at what will be one big party.

This is a must see – don't miss - night of country music. Come and celebrate with The Wolfe Brothers and experience their brand new show featuring tracks from the Country Heart album plus all of the hits from what is now becoming one of Australia's favourite country rock catalogues.

Book now for The Wolfe Brothers Live and In Concert with guests Andrew Swift and Jody Direen.