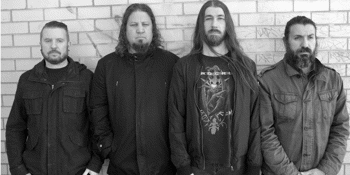 Neomantra - Album Launch
with special guests XIII, Yomi Ship and Christopher J Brown
Friday, 14 January 2022 8:00 PM
"...Neomantra deliver heavy-hitting, knockout combos just begging to be experienced..." - New Noise Magazine
"Henosis is a beautifully measured sonic journey with a vast-crossover of metal styles... A truly majestic listen" - Wall of Sound

t's finally time to celebrate the birth of HENOSIS, the philosophically-charged crushing post-metal debut EP by NEOMANTRA, mixed & engineered in Perth by Mark McEwen & Brody Simpson (Underground Recording Studios) and co-produced by local heavyweight Drew Goddard (KARNIVOOL). The EP has had a great reception nationally with a Premiere feature on prominent national music webzine Wall of Sound, and has received welcome support & airplay from The Faction Live, RTRFM and a host of podcasts around the country and internationally. Brought to you by FUZZ FACTORY TOURING, NEOMANTRA will be bending time & space at BADLANDS bar FRIDAY JAN 14 2022, playing the HENOSIS EP in its entirety, plus more of our currently unreleased future material. We will also be having some special guest appearances on-stage to share in the celebrations with us... you definitely won't want to miss it! We are also thrilled to share with you that we will have a very limited run of HENOSIS 12" VINYL EP's available for purchase on the night to celebrate the release, along with a run of super-sick NEOMANTRA/HENOSIS T-SHIRTS - these are sure to move quickly so make sure you take this limited opportiunity to loot up - when they're gone, they're gone..!

Joining us on the night will be our good friends, and indeed some of Perth's finest talents: XIII (@xiii.au) Get ready to experience the energy and magnetic presence of experimental punk outfit XIII fronted by Dan Sanders (GYROSCOPE) and Drew Goddard (KARNIVOOL) on drums - XIII have been described as "musical graffiti ranging from ecstatic punk to maniacal, grinding noises, dangerously united in crude passion and integrity". Damn straight.

YOMI SHIP (@yomiship) Perth's definitive instrumental psych/prog/post-rock act YOMI SHIP will be warming up the stage for us - if you haven't heard them before make sure to do yourself a favour, and get down early to catch them. "Yomi Ship glide through a hallucinatory blend of prog-rock, post-rock and psych to deliver an immersive and experimental sound that belongs entirely to themselves." -Happy Mag

CHRISTOPHER J BROWN (DJ Set) (@ChristopherJBrownMusic) Local Producer/DJ/Musician CHRISTOPHER J BROWN (Cyberstruct/Life Cult) will be providing the soundtrack for the night between bands with his special blend of industrial, post-metal & gothic vibes to keep you primed. We can't wait to see you all on the night.