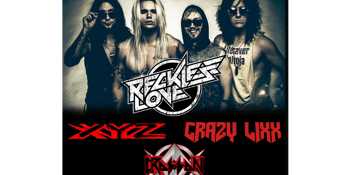 MelodicRock Fest presents
RECKLESS LOVE (FIN)
with XYZ (USA) , Crazy Lixx (SWE), CROSSON (AU)
Crowbar Sydney (Leichhardt, NSW)
Saturday, 14 March 2020 7:00 PM
RECKLESS LOVE

Described as everything from Glam Metal to Hard Rock to Heavy Metal, one thing for certain is that Finnish rockers Reckless Love know how to deliver. After starting life playing Guns N Roses covers in 2001, Reckless Love soon started writing their own music, leading to them winning the Kuopio Band Competition in 2004. With a swag of hit singles including 'One More Time', 'Hot', 'Night on Fire' and 'Monster', Reckless Love are set to bring a touch of rebellion to Australian audiences.

XYZ

After starting out as the unofficial house band at the infamous Whisky A Go-Go club in Las Angeles, XYZ released debut album Enigma in 1989 which featured the songs 'Inside Out' and 'What Keeps Me Loving You'. After a less than favourable reaction to that and its follow up Hungry, XYZ disbanded for several years before returning with Letter to God in 2003. Since then the band has cemented their standing as one of the leading exponents of hard rock/glam, selling more than 2 million albums worldwide and touring with Ozzy Osbourne, Foreigner, Soundgarden, Alice Cooper and Cheap Trick. They are a band with energy to burn and a strong desire to entertain and hit Melodic Rock Fest on their 20th Anniversary tour featuring the original line-up.

CRAZY LIXX

Formed in Sweden in 2002, Crazy Lixx had an early vision of bringing back 1980's style hair metal. They have succeeded this and more over six albums, the most recent of which, Forever Wild (2019), was described as ten tracks of instant hair metal awesomeness. It perfectly captured the nostalgia of 80's arena hard rock mixed with a bit of action movie themes, packed with impressive guitar solos, memorable hooks, catchy choruses, big drums and defining riffs.

CROSSON

Sydney outfit Crosson have been described in Classic Rock Magazine as a combination of Kiss, Motley Crue, The Darkness and Steel Panther, high praise indeed for a band with only two albums releases to their credit. Self-diagnosed as Theatrical Glam Melodic Rock, Crosson pride themselves on their live performances that feature high energy choreography, costume changes, smoke, sirens and catchy rock anthems. With a new album scheduled for release in early 2020 Crosson head into the Melodic Rock Fest sideshows with a firm desire to launch their music into the next decade and beyond.