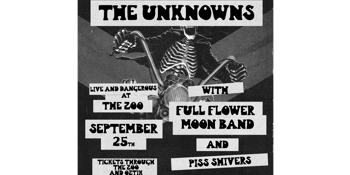 Road Agent Touring Services & The Zoo
THE UNKNOWNS
Full Flower Moon Band, Piss Shivers
The Zoo (Fortitude Valley, QLD)
Saturday, 25 September 2021 6:30 pm
Firing on all cylinders, The Unknowns bring their unique brand of power pop rock'n'roll to the Zoo on September 25th, for a night of roof raising good times and beer fuelled debauchery.
Supported by Full Flower Moon Band & Piss Shivers, its sure to be a night to remember.
In years to come you can say you where there!