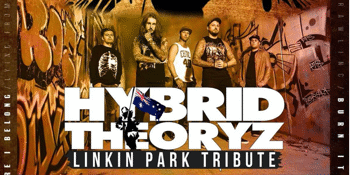 Hybrid Theoryz
Saturday, 26 September 2020 8:00 pm
In the year 2000 LINKIN PARK released the album "HYBRID THEORY" that would cement the band's status as one of the top rock acts of all time, the album certified 11 times platinum selling over 27 million copies worldwide.

2020 marks the 20th anniversary of this ground breaking album and the song "In the end" reaching 1 billion views on the YouTube platform.

To celebrate these milestones, Australia's first LINKIN PARK tribute HYBRID THEORYZ will deliver over 2 hours of LINKIN PARK across 2 sets including a performance of a Hybrid Theory in full. The boys will deliver a second set of hits from "METEORA", "MINUTES TO MIDNIGHT" and more.

HYBRID THEORYZ is an experience including visual themes on screens and lighting production to showcase the musical legacy of LINKIN PARK.